Answers to Frequently Asked Questions
---
How do I find the size I am looking for? 
All of our available mattress sizes are listed in the drop down menu on product collection pages, or on product pages themselves. If a custom size you need is not listed, please contact us for a custom quote on a custom size mattress. You can reach us at 1 844 475 3378 (1 844 4SLEEP8)
Where is my mattress manufactured? 
All of our mattresses are proudly made in both the United States & Canada. The lumber for our boxsprings, the foam for our mattresses, the steel for the coils, all North American made. Made in North America means better regulation on these industries and safer, less toxic products.
What is the Brand name of your mattresses? 
Our mattresses are made with identical components to name brand mattresses, just not with the expensive name labels. We use our own name brand labels or no label at all for our mattresses.
What is the minimum thickness I need for a mattress? 
Our value foam mattresses start at 5.5" thick. This is the very minimum thickness in foam to support a 250 pound person comfortably without bottoming out the mattress.

The minimum thickness of a mattress does not have to be too thick to do the trick.

Most people like a thicker mattress both for looks and feel, and we do carry mattresses at all different thicknesses. Just read the product description to see the thickness of the mattress you are looking at.
What are the different sizes of mattresses? 
All RV mattresses are custom sizes. RV manufacturers work under special requirements to fit a bed into their floor plan. There are many different RV Mattresses sizes, which is why we list many different size for you to choose from. Below is a chart that shows you the traditional mattress sizes, versus the Custom, RV mattress sizes.
| | | |
| --- | --- | --- |
| Size Name | Length | Width |
| | | |
| | | |
| Cot Size (Military Single) | | |
| | | |
| | | |
| | | |
| | | |
RV Size, Cot Size, 3/4, Super Single & More
We regularly sell RV size mattresses, 3/4 (known as Super Single), Cot Size & more. If you need a particular custom size not listed, please contact us and we will setup a custom order for you.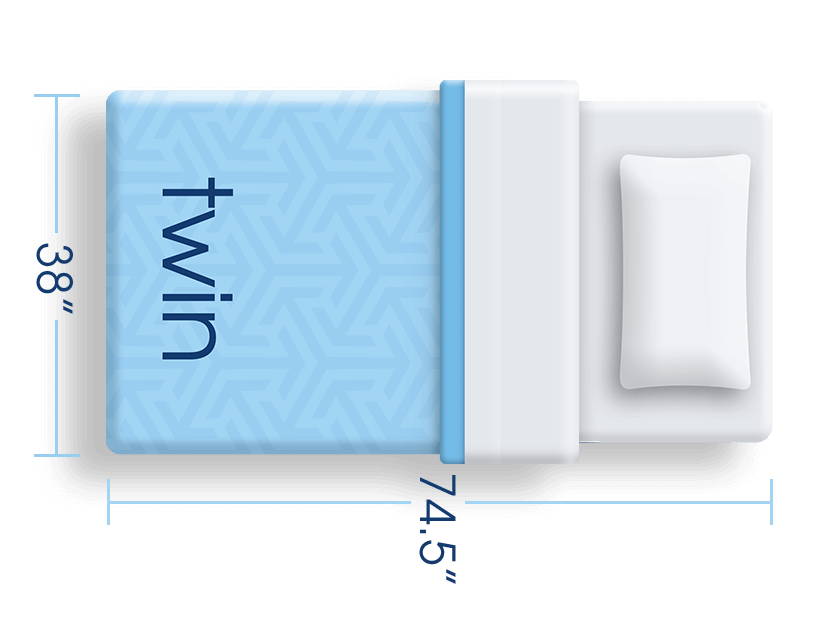 38 Wide x 74.5 Long x 12 inches Thick
The Twin Size mattress, also called a single size mattress is perfect for 1 person. All dimensions can vary up to 1.5 inches to allow for bedding.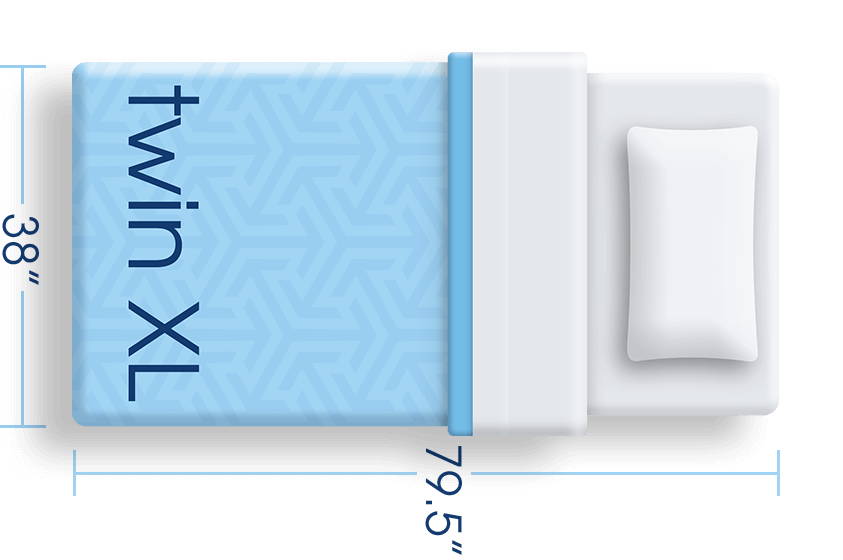 38 Wide x 79.5 Long x 12 inches Thick
The Twin XL Size mattress, is perfect for a taller person. Two Twin XL mattresss can also add up to a king size mattress. All dimensions can vary up to 1.5 inches to allow for bedding.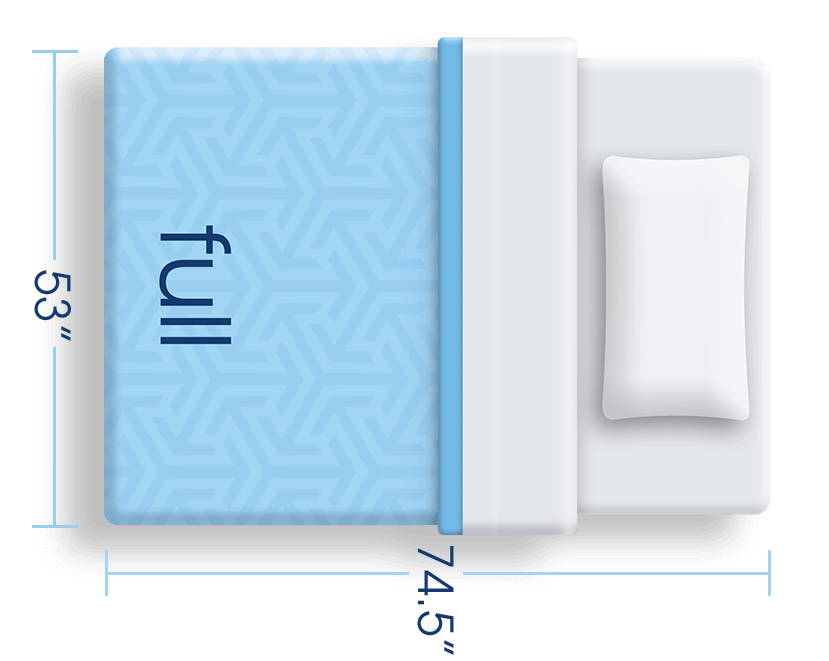 54" Wide x 74.5" Long x 12 inches Thick
Full Size, also known as Double size is well suited for two sleepers. If all sleepers are less than 6 feet tall, double will work great. If not, you may want to consider a queen size mattress. All dimensions can vary up to 1.5 inches to allow for bedding.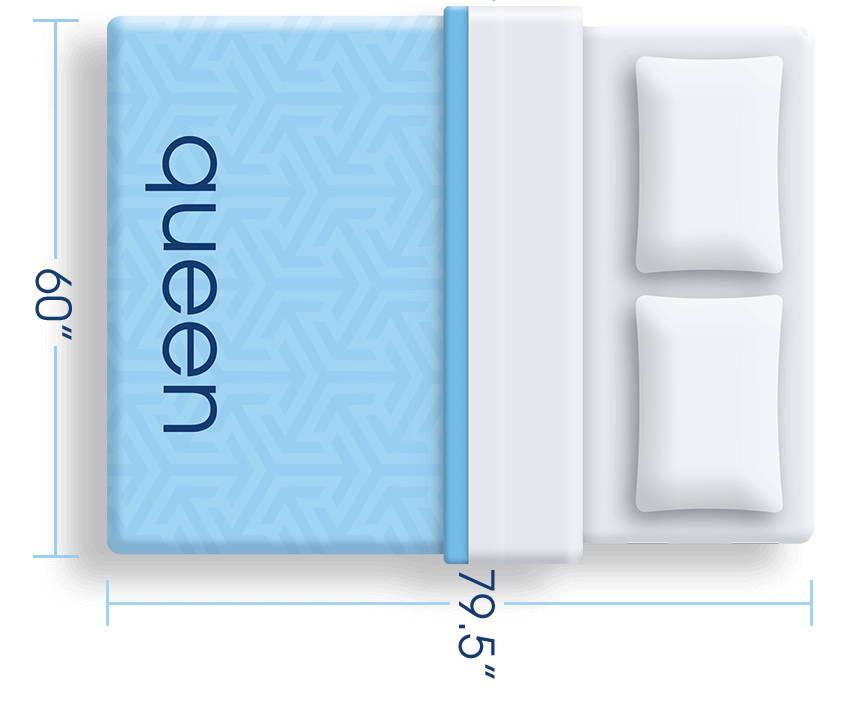 60" Wide x 79.5" Long x 12 inches Thick
The Queen size mattress is the most popular size mattress for two sleepers together. For sleepers over 6 feet long, and who need room to move around, the Queen size mattress is perfect for you. All dimensions can vary up to 1.5 inches to allow for bedding.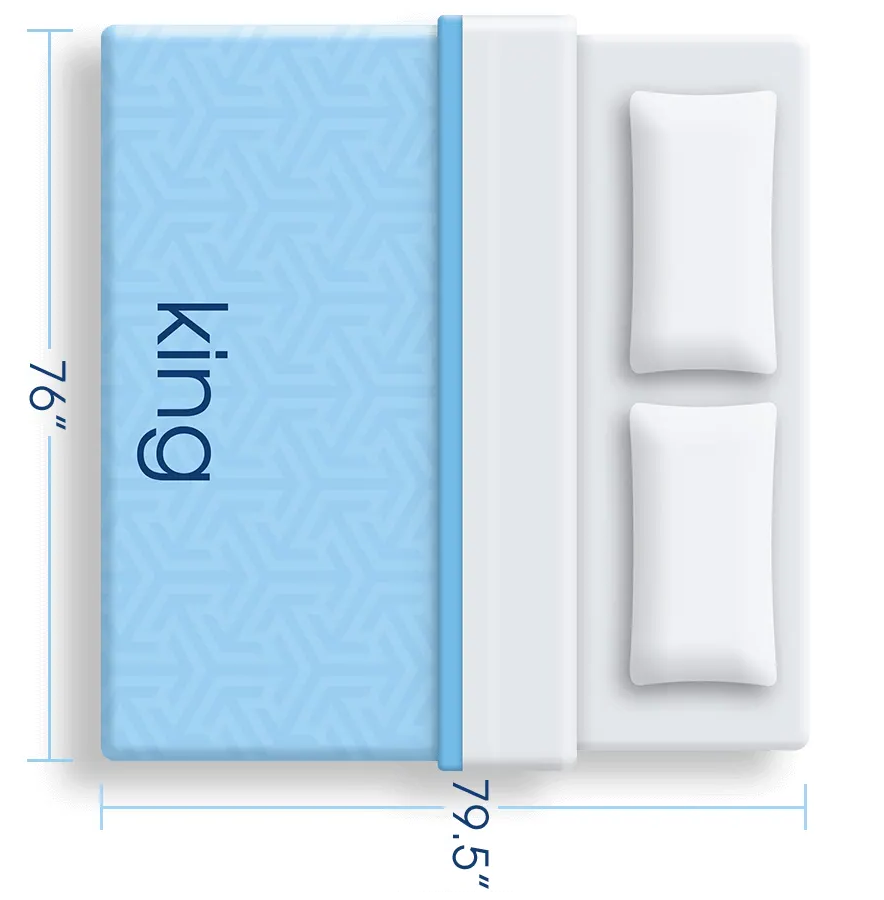 78" Wide x 79.5" Long x 12 inches Thick
The King size mattress is the ultimate luxury experience. For two sleepers, you will have plenty of room to move around without the worry of bumping into eachother. All dimensions can vary up to 1.5 inches to allow for bedding.
How long will the mattress last? 
Different mattresses in our line up will last longer or shorter depending on their durability features. Mattresses will also last longer depending on how you take care of them.

Generally, our Basic mattresses will last 2-5 years, our Premium Mattresses will last 5-10 years, our Elite Mattresses will last 8-20 years. As you can see, you do buy a longer lasting mattress with a higher budget.

Generally speaking, a mattress lasts about 8 years if it is a good quality mattress from our Premium collection. If your mattress is over 8 years old, it is time too think about replacing it.

All of these lifespans are based on using your mattress every night. If you are using your mattress less frequently, as in an RV, you mattress usually will last a lifetime.

Here are some ways you can wear your mattress out faster:

(1) Not using a mattress protector. This let's sweat into your mattress and accelerates the breakdown of your foam comfort layers.
(2) Jumping on your mattress.
(3) Sitting on the edge of your mattress for extended amounts of time.
(4) 24/7 use of your mattress (long term care & disability)
(5) Not rotating your mattress and distributing wear evenly.
What is the warranty on my mattress? 
Every mattress in our line-up comes with prorated warranty, varying in length depending on the mattress type. Our standard mattresses carry a 1-3 year warranty. Our Premium mattresses carry a 5-8 year warranty. Our Elite Mattresses carry 10-15 or 20 year warranty (Intellibed)
What types of mattress do you carry? 
We carry all types of foam mattresses, spring mattresses, gel matrix mattresses and hybrid mattresses. We carry tight top, pillow top, euro top, box top, value, mid-range and high end. We carry soft, firm, medium, medium firm and medium soft mattresses. Everything on our website ships free across USA if your order is over $249.
How do I know what type of sleeper I am? 
When you go to bed at night, what is your instinctive position that you start to sleep in? On your back? On your side? On your stomach? Whichever position you instinctively start in, this is your preferred sleeping style.

Many people sleep in all positions, this is okay. If this is your preference, try looking for a mattress that is a side sleeper mattress, since side sleeper mattresses will cover both side and back (or stomach).
How much does a mattress cost? 
This is a very common question. Mattresses are a very difficult product to put a price on since you can have a lot of hidden technology in a mattress which might not appear to you expensive, but can indeed be very expensive. Our least expensive mattresses start from $119 for a twin size RV Mattress, $169 for a double size and $219 for a queen size. This is obviously a basic mattress at this price, but it will work for the right situation. Our mattresses can be as expensive as $2499 which is for our Royal Suite King Size Mattress (our most expensive mattress)

So you can see! There is quite a range of prices for a mattress. It is best to speak with one of our Sleep Experts who can help guide you to the right mattress for your needs.
How can I tell how firm your mattresses are? 
If you look at all of our mattresses, you will find you can pick from different feels. We have soft, medium, plush firm, medium firm, firm, very firm to choose from. You will also find in each one of our product descriptions, we talk about how firm a mattress is and who it is best suited for.

Contrary to modern mattress marketing, there are no "one size fits all" mattress feels. Everybody sleeps differently and needs a different feel in their mattress. Take the time to make sure you are picking the right feel, and if you are unsure make sure you speak with one of our representatives.
---
How much does delivery cost? 
All orders over $249 are delivered for free within 3-8 business days. If you would like to pay for upgraded Rush delivery, it is $49.95. If your order is less than $249, there is a $29.95 fee.

For all orders located in Canada or the United States, your order will take anywhere from 3-8 business days to arrive. If you pay for upgraded rush delivery, we can get your order to you faster in 1-4 business days.

** For custom orders including special sizes, or custom ordered furniture please add up to 7 days to your delivery time.
Is delivery to my door or to my bedroom? 
You will receive your order by FedEx, UPS or Day Ross Freight. Your order will arrive to your door the same way you would receive any other parcel. We cannot assist with taking your order into your bedroom, however your order will arrive in convenient sized box(es) to make it easy to carry into your room.
Will I get delivery same day? 
We strive to get every order out FAST. We know how important it is to get a good sleep and sometimes, you need it as soon as possible. If you are within 100 km of our store, sometimes, we can even get your order out on the same day. Please call us at 1 844 475 3378 to see if it is possible for you. Most deliveries take anywhere from 3-8 business days. Upgraded Rush Delivery can be purchased for an additional $49.95
Do you remove my old mattress? 
Currently, we do not remove old mattresses due to Covid-19 restrictions. We recommend that you book an appointment with your City or Municipality to get a free removal. Each City and Municipality offers free removal, and they responsibly recycle mattresses through a shredder which we do not have the ability to do. Just google "your city" + "large item pickup" to set up an appointment.
I've placed my order, what now? 
Once you place an order with Direct Bed, we will call you personally to set up your delivery if you are within 100 km of our store. Your order will be delivered by our own delivery team personally.

If you are outside of this delivery zone, your order will ship through FedEx, UPS or DayRoss Freight with a tracking number. Your tracking information will be updated into your order automatically and you will receive an update to your email or through SMS if you choose. Please check your spam folder if you think you should have got this notifaction.

Your order will ship within 3-8 business days.
---
What is your return policy?
Since a mattress is a hygienic product, if you would like to return your purchase within 10 days of receiving your purchase, it must be unopened, still in the original bag or box, no exceptions. You will be responsible for all transportation cost back to our warehouse. You will also be responsible for a 10% restocking fee once returned.

If you have opened up your mattress and used it, and you would still like to return it within 10 days of receiving your purchase, you will be subject to a 25% restocking fee as well as responsible for the cost of transportation.
How do I make an exchange?
If you would like to set up an exchange, please call us at 1 (844) 475 3378 to set up an exchange. Once we have figured out the mattress that you want to exchange to, we simply credit you for your old mattress and send you the new one. You will be responsible for any transportation cost associated with the exchange. For deliveries across USA, please call us at 1 844 475 3378 for a custom shipping quote.  

**Please note: In order to exchange your mattress, you must confirm that a mattress protector has been used on your mattress and that the mattress is free of stains, smells or spills.
What do you do with used mattresses that are returned?
We ensure that all mattresses are either sold with a Mattress Protector, or that all customers have used a mattress protector if they want to exchange their mattress. All returned mattresses are returned free of stains, smells or spills and are available for purchase in our floor model and return clearout area at our store. These mattresses are available for purchase at a highly discounted rate, and provide an affordable option for individuals who cannot afford the cost of a brand new mattress.

These mattresses are clearly marked as floor models and returns. Customers are made aware that these mattresses are sold as is, final sale, no returns, no exchange, no warranty.
How long do I have to exchange my mattress? 
We offer a 100 Night sleep exchange guarantee. This means that within the first 100 nights, if you are not perfectly comfortable with your new mattress, you can exchange it for a different mattress in our line up.

Since it takes some time to adjust to a new mattress, we recommend taking 30 days to get used to your new mattress. After this, you may exchange your mattress within day 30-100 for a different mattress.
Who covers the cost of transportation? 
If you would like to take advantage of the 100 Night Sleep Exchange, you will need to get the mattress back to our warehouse. You may bring the mattress back in your own vehicle or use one of our transporation methods. If you are outside of our local delivery zone, please call (905) 594 1247 for a custom shipping quote.
---
How can I pay for my order? 
We accept Mastercard, Visa, Visa Debit, AmEx through our secure payment processor, Stripe™. We also accept paypal, apple pay and google pay online.
We currently do not offer financing on any purchases.
---
Where is your store located? 
We are located at 903 Barton Street in Stoney Creek, Unit #20. We also have a returns warehouse at 3909 Witmer Road in Niagara Falls, New York, USA.

---